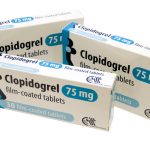 On November 7, 2018, the Fed. Cir. issued a summary affirmance of the PTAB's interference decision of September 6, 2016, in Kumar v. Sung (Patent Interference 14/322,039) which found that the claims of U.S. Pat. No. 8,541,422 were obvious over a single prior art reference. Since the Senior Party had dropped out – its patent was found to be obvious as well – the PTO intervened as the defendant in Kumar's appeal to the Fed. Cir.
The PTO Brief filed in the appeal is of interest due to the thoroughness of its reasoning that, basically, affirmed breaking the preamble into two "limitations", one of which gave life to the claim as a method of treatment and one which was ignored as a statement of intended use. The main claim is directed to a method of treating thrombosis with S-oxo-clopidogrel, the active metabolite of clopidogrel (Plavix®). While it was known that S-oxo-clopidogrel was more potent in mice than clopidogrel, the '422 patent attempted to claim the use of the metabolite to treat patients that do not respond well to clopidogrel:
A method of [1] reducing or alleviating inter individual platelet response variability and metabolite loading in humans in [2] the treatment or prophylaxis of thrombosis or embolisms [1] observed following the administration of clopidogrel comprising administering to a person in need thereof, a composition containing an effective amount of S-oxo-clopidogrel or [an analog thereof or its salt] [Ed. note: I added the numbers to the preamble and shortened the irrelevant part of the claim.