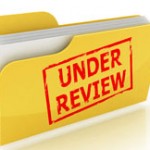 A guest post from Theresa Stadheim, attorney at Schwegman Lundberg & Woessner.
In In re: Cuozzo Speed Technologies, LLC, Appeal No. 2014-1301 (Fed. Cir. July 8, 2015, decision by Dyk), the Federal Circuit decided not to review the Patent Trial and Appeal Board (the "Board") practice of construing patents under the broadest reasonable interpretation (BRI) standard.
Garmin petitioned the Board for inter partes review (IPR) of claims 10, 14 and 17 of Cuozzo's U.S. Patent No. 6,778,074 (the '074 patent). Garmin contended that claim 10 was invalid as anticipated under 35 U.S.C. § 102(e) or as obvious under 35 U.S.C. § 103(a) and that claims 14 and 17 were obvious under § 103(a). Claim 10 recited:
A speed limit indicator comprising:
a global positioning system receiver;
a display controller connected to said global positioning system receiver, wherein said display controller adjusts a colored display in response to signals from said global positioning system receiver to continuously update the delineation of which speed readings are in violation of the speed limit at a vehicle's present location; and
a speedometer integrally attached to said colored display.