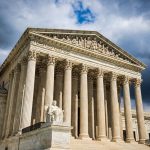 UCB v. Accord, Appeal no. 2016-2610 et al. (Fed. Cir., May 23, 2018) may be headed to the Supreme Court, which prompted me to take another look at this opinion. This was a decision in Hatch-Waxman litigation, in which a split Fed. Cir. panel affirmed the district court's ruling that the valuable patent in suit, RE38,551, that covers the anti-epileptic drug lacosamide was not anticipated, obvious, or invalid for obviousness-type double patenting. Judge Stoll wrote the opinion, joined by Judge Bryson. Judge Prost dissented.
The most interesting parts of this lengthy opinion, apart from the thorough review of obviousness-type double patenting were the effort by the panel to draw the line between the obviousness of resolving an R/S mixture that contains the active R compound and obviousness due to the motivation provided by a "lead compound." There was quite a lot of prior art for the defendants to piece together to get to the fairly simple structure of lacrosamde: BzN(H)-C(O)-CH(MeOMethyl)-N(H)C(O)Me. The key substituents were Benzyl (Bz)(R), the unsubstituted methyl at the other end of the molecule (R1) and the methyoxymethy goup (R3).
To briefly summarize some of the prior art, the inventor had published a number of papers, one of which disclosed a lacrosamide-like molecule with an MeON(H)- group as R3. The inventor had two earlier patents contained broad generic claims, but neither of which claimed lacrosamide per se. (The '301 patent was not prior art to the '551 patent and was only relevant to the obviousness-type double patenting rejectioin.) Worse yet, it seemed, was a thesis by LeGall that disclosed a racemic mixture of R/S lacrosamide and stated that it "may have good activity." However, Le Gall also speculated that aromatic groups at R3 would be more bioactive.