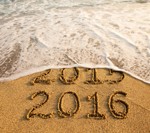 I will try to keep this post as brief as possible, since I posted at length on all of the stories. There was a lot of IP action in 2015 – much involving the Fed. Cir. and Supreme Court's resolution of cases in progress in 2014. In no particular order, I pick:
1.  Ariosa v Sequenom. This Fed. Cir. decision that a method for isolating "cffDNA" from maternal blood is no more than a natural phenomenon was a big step backwards for the development of patent law in the area of "precision medicine" and clouds the future patent-eligibility of both natural products and methods of diagnosis and treatment. It is a pick to click with the Supreme Court. (There was also a PTO "July 2015 Update" of the December 2014 s. 101 Guidelines that really did not clarify anything.)
2.  Biosimilars Hit the Shelves. In April, the FDA finalized its biosimilars guidance and Sandoz soon launched the first biosimilar, a generic version of Neuprogen.
3.  Nautilus v Biosig. The Supreme Court redefined the "indefiniteness standard" of s. 112(2) so that a claim term must be reasonably certain to the POSA, not simply amenable to construction. In Dow v. Nova, this new standard compelled invalidation of the claims-in-suit. (more…)