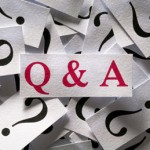 At the recent BIO International Convention, Deputy Commissioner Andrew Hirschfeld (who chaired the May PTO s.101 Forum) presented seven "Sample Claims" related to biotech/pharma inventions and invited "discussion and feedback" from the interested public. The claims have been posted on the PTO website (and can be found here). I will attempt some commentary on patent-eligibility under the new PTO Guidelines.
6. Antibiotic L, which is expressed by recombinant yeast. (Antibiotic L is secreted by a bacterial species and exhibits antibiotic properties when the bacteria functioning naturally)(Comments in parentheses are my slightly rewritten summaries of the background of the claims provided by the PTO in the slides.)
Patents4Life comments: We know that the Guidelines would require the Examiner to reject a claim to isolated antibiotic L or to a pure strain bacterial culture that would excrete the antibiotic into the medium–both are "natural products." But in claim 6, a lot more of the hand of man is involved. But wait! This is a product-by-process claim and the PTO ignores process limitations when evaluating the patentability of a compound, and evaluates the compound per se. Now the "answer" turns on whether or not expression from yeast significantly alters the structure of antibiotic L, and we are not told whether or not it does. So the question is unanswerable at this point.