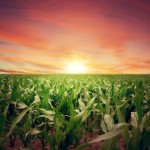 On Friday, Oct 5th, the Supreme Court granted cert. to review the Fed. Cir.'s decision in Monsanto Co. v. Bowman, App. no. 2010-1068 (Fed. Cir. September 21, 2011). (A copy of the decision is at the end of this post.) Bowman, a soybean farmer, had purchased commodity (mixed -source) seed from a local grain elevator to plant as a "second crop" since he did not want to pay the higher cost that a licensed seed grower would charge. All sales to growers of the Monsanto seeds in question – these particular seeds are transgenic in that they carry, and pass on, the trait of resistance to glyphosate – are subject to a "standard form limited use license," the "Monsanto Technology Agreement," that licensed the two patents-in-suit to growers under the conditions, inter alia, that they would use the crop for planting only in a single season, not to resell the seed, and not to save seed for replanting. The growers can sell the seed to grain elevators as a commodity – e.g., for use as food or feed.
These is the seed Bowman purchased, planted, harvested the beans and saved and replanted them. The crops remained glyphosate resistant, since this trait was genetically-engineered in to the plant cells so that it was heritable.
Monsanto sued, arguing that the Technology Agreement extended only to seeds purchased from Monsanto or from a licensed dealer, and so Bowman was infringing when he produced a second generation crop of glyphosate resistant seeds after saving seed from the first portion of commodity seed he got from the elevator operator. (My guess is that it can be risky to try to grow a second crop from commodity seed, since not all of the seeds may carry the trait you need. In this case, the seeds in the elevator almost all carried the trait because most farmers in the area planted Monsanto glyphosate-resistant seeds.)
Bowman argued that Monsanto's patent rights were exhausted once the growers permissibly sold the first generation seed as a commodity:
"Bowman urges the court to hold, under Quanta, that each seed sold is a 'substantial embodiment' of all later generations, this adopting a 'robust exhaustion doctrine that encompasses the progeny of seeds and other self-replicating biotechnologies." Slip. op. at 10.
Monsanto successfully argued that "even if there was exhaustion with respect to commodity seeds, Bowman is nevertheless liable for infringement by planting those seeds because patent protection 'is independently applicable to each generation of soybeans (or other crops) that contains the patented trait… Monsanto contends that 'under Bowman's analysis, patent protection for self-replicating inventions would be eviscerated." Id.
One commentator on another blog felt that attaching infringement to transgenic progeny seeds and plants was a foolish attempt to monopolize natural laws – a sort of "fish gotta swim, birds gotta fly" argument that concludes that seeds grow all on their own, and so no patent rights should be granted that cover such replicants. This sort of argument ignores the fact that the transgenic seeds (or even seeds from non-transgenic inbred or hybrid plants) would not exist, let alone be planted, cultivated and harvested, without the intervention of "the hand of man."
Put another way, in Bowman, the Fed. Cir. stated: "The court disagrees with Bowman that a seed 'substantially embodies' all later generation seeds, at least with respect to the commodity seeds because nothing in the record indicates that 'the only reasonable and intended use ' of commodity seeds is for replanting them to create new seeds." Slip op. at 12.
To reverse Bowman, the current Supreme Court will also have to ignore or tip-toe around its language in J.E.M. Ag Supply v. Pioneer Hi-Bred, 534 U.S. 124 (2001) (the decision is provided below) which involved an unlicensed sale of non-transgenic seed. As the Fed. Cir. summarized the holding in J.E.M., "in explaining the differences between seed variety protection under the PVPA and utility patents, the Court stated: 'Most notably, there are no exemptions for research or saving seed [which Bowman did] under a utility patent.'"Slip. op. at 11.
I don't think that this is dicta, since the Supreme Court in J.E.M. was required to decide if utility patents for plants had been preempted by the earlier enactment of the Plant Variety Protection Act. Thus, this statement distinguishing the scope of utility patent protection was essential to the Court's holding that utility patents should be available for plants. However, these days, when the Fed. Cir. comments on the scope of a biotech patent, watch out. For the Supreme Court, this is like waving a red cape in front of a bull, and -to mix metaphors – this bull is already in the China Shop.
JEM Ag v Pioneer
On Friday, Oct 5th, the Supreme Court granted cert. to review the Fed. Cir.'s decision in Monsanto Co. v. Bowman, App. no. 2010-1068 (Fed. Cir. September 21, 2011). (A copy of the decision is at the end of this post.) Bowman, a soybean farmer, had purchased commodity (mixed -source) seed from a local grain elevator to plant as a "second crop" since he did not want to pay the higher cost that a licensed seed grower would charge. All sales to growers of the Monsanto seeds in question – these particular seeds are transgenic in that they carry, and pass on, the trait of resistance to glyphosate – are subject to a "standard form limited use license," the "Monsanto Technology Agreement," that licensed the two patents-in-suit to growers under the conditions, inter alia, that they would use the crop for planting only in a single season, not to resell the seed, and not to save seed for replanting. The growers can sell the seed to grain elevators as a commodity – e.g., for use as food or feed.
These is the seed Bowman purchased, planted, harvested the beans and saved and replanted them. The crops remained glyphosate resistant, since this trait was genetically-engineered in to the plant cells so that it was heritable.
Monsanto sued, arguing that the Technology Agreement extended only to seeds purchased from Monsanto or from a licensed dealer, and so Bowman was infringing when he produced a second generation crop of glyphosate resistant seeds after saving seed from the first portion of commodity seed he got from the elevator operator. (My guess is that it can be risky to try to grow a second crop from commodity seed, since not all of the seeds may carry the trait you need. In this case, the seeds in the elevator almost all carried the trait because most farmers in the area planted Monsanto glyphosate-resistant seeds.)
Bowman argued that Monsanto's patent rights were exhausted once the growers permissibly sold the first generation seed as a commodity:
"Bowman urges the court to hold, under Quanta, that each seed sold is a 'substantial embodiment' of all later generations, this adopting a 'robust exhaustion doctrine that encompasses the progeny of seeds and other self-replicating biotechnologies." Slip. op. at 10.
Monsanto successfully argued that "even if there was exhaustion with respect to commodity seeds, Bowman is nevertheless liable for infringement by planting those seeds because patent protection 'is independently applicable to each generation of soybeans (or other crops) that contains the patented trait… Monsanto contends that 'under Bowman's analysis, patent protection for self-replicating inventions would be eviscerated." Id.
One commentator on another blog felt that attaching infringement to transgenic progeny seeds and plants was a foolish attempt to monopolize natural laws – a sort of "fish gotta swim, birds gotta fly" argument that concludes that seeds grow all on their own, and so no patent rights should be granted that cover such replicants. This sort of argument ignores the fact that the transgenic seeds (or even seeds from non-transgenic inbred or hybrid plants) would not exist, let alone be planted, cultivated and harvested, without the intervention of "the hand of man."
Put another way, in Bowman, the Fed. Cir. stated: "The court disagrees with Bowman that a seed 'substantially embodies' all later generation seeds, at least with respect to the commodity seeds because nothing in the record indicates that 'the only reasonable and intended use ' of commodity seeds is for replanting them to create new seeds." Slip op. at 12.
To reverse Bowman, the current Supreme Court will also have to ignore or tip-toe around its language in J.E.M. Ag Supply v. Pioneer Hi-Bred, 534 U.S. 124 (2001) (the decision is provided below) which involved an unlicensed sale of non-transgenic seed. As the Fed. Cir. summarized the holding in J.E.M., "in explaining the differences between seed variety protection under the PVPA and utility patents, the Court stated: 'Most notably, there are no exemptions for research or saving seed [which Bowman did] under a utility patent.'"Slip. op. at 11.
I don't think that this is dicta, since the Supreme Court in J.E.M. was required to decide if utility patents for plants had been preempted by the earlier enactment of the Plant Variety Protection Act. Thus, this statement distinguishing the scope of utility patent protection was essential to the Court's holding that utility patents should be available for plants. However, these days, when the Fed. Cir. comments on the scope of a biotech patent, watch out. For the Supreme Court, this is like waving a red cape in front of a bull, and -to mix metaphors – this bull is already in the China Shop.
Monsanto opinion
JEM Ag v Pioneer
Path: