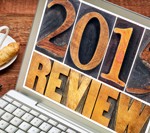 This is a guest post from Chisum Patent Academy.
Patent Law Developments 2015: A Quick Recapitulation
Donald S. Chisum
Co-Founder, Chisum Patent Academy
In terms of case law, legislation and other developments in patent law, calendar year 2015 had no first order block buster comparable to the Supreme Court's 2014 Alice decision on patentable subject matter pertaining to computer implemented inventions or Congress' 2011 enactment of the America Invents Act. Nevertheless, there were important decisions by both the Supreme Court and the Court of Appeals for the Federal Circuit that commanded the attention of every patent professional.
In terms of volume of case precedents by the Supreme Court and the Federal Circuit, 2015 equaled 2014 as the busiest years ever, each year having about 140 precedential decisions. Below [attached] is a quick review of the most significant of those precedents.