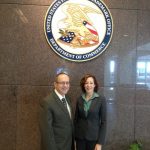 The Federal Circuit and Supreme Court Have Already Issued 100 Precedential Patent Opinions in 2017! Are You Up to Speed?
Stay on top of the latest critical developments by joining us this spring in Houston or Cincinnati. The Chisum Patent Academy is accepting registrations for its Small Group Patent Law Seminars to be held in two locations in March 2018: in Houston, Texas at the offices of Bracewell LLP on March 5-6, 2018; and in Cincinnati, Ohio at the Renaissance Cincinnati Downtown Hotel on March 8-9, 2018. Each two-day seminar will cover the same content; 12.0 CLE credits will be applied for. Chisum Patent Academy seminars are held in a unique roundtable format to maximize interactive discussion, debate, and sharing of best practices. Unlike other CLE programs, each Chisum Patent Academy seminar is limited to ten (10) participants.
Topics for the Spring 2018 seminars:
Our small group seminars always include topics that are timely and important to professionals engaged in patent prosecution, litigation, counseling, and licensing. We update our syllabus for each seminar to include latest developments and trends. We expect to address these and other topics in depth:
— Section 101 patentable subject matter;
— Inter partes review (including obviousness and procedural aspects);
–The on sale bar under the "new" (AIA) Section 102;
–Anticipation (inconsistent decisions; "immediately envisage" requirement; inherency);
–Obviousness (improper use of inherency; weight to be given secondary considerations; prima facie case; teaching away; unexpected results); and
–2017-2018 case law developments on each of these and many other issues in a review of "blockbuster" Supreme Court and en banc Federal Circuit decisions (including Constitutionality of AIA post-grant review, patent venue, exhaustion, laches, Section 271(f), design patent damages, IPR time bars and claim amendments).
The small group format of the seminars led by treatise authors Donald Chisum and Janice Mueller allows an in-depth exploration of the implications of these decisions for patent prosecution, PTO post-issue proceedings, patent portfolio evaluation, counseling, licensing, and litigation.
For additional information on our Houston and Cincinnati venues and registration, go to https://www.chisum-patent-academy.com/.