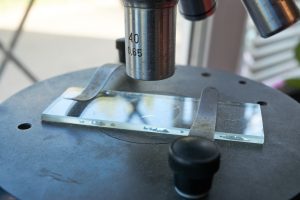 In Ex parte Galloway, Appeal No. 2017-004696 (PTAB, May 24, 2018), the Board reversed the examiner's rejections of claims to a method of diagnosing bladder cancer. The method comprised isolating cells from the urine of a subject, dispersing at least 5000 cells on a slide, staining the cells with a labelled binding member [such as an antibody] capable of binding to MCM2 polypeptide, counting the stained cells wherein if the count is at least 50/5000 cells, the subject has bladder cancer [claim was abbreviated to simplify discussion].
The Board first reversed the obvious rejection over two papers that the Board found did not disclose or suggest all the claim limitations, particularly the labelled cell counting step. Then the Board reversed the examiner's natural phenomenon rejection, relying on the rationale of its finding of unobviousness. While the claim was based on the natural correlation between MCM2 positive cells and bladder cancer, the Board found that the examiner had not established that the labelled cell counting step  was routine or conventional:
"In fact, the combination of [the two references] does not even provide all [of the] limitations of the claim and are conflicting technologies, not providing a routine path to practice the claims. [citing Berkheimer v. HP, 881 F.3d 1760 (Fed. Cir. 2018)] [There is] no factual evidence that the cell counting step, as claimed, is conventional or known in the art."
I think that the Board's focus on the claim language is notable, particularly since, broadly considered, counting cells labelled with a detectable antibody is certainly conventional. In this case, the precision with which both the plating and counting steps were recited saved the day for Galloway and may light the way for other correlation-based diagnostic claims.