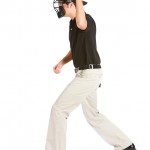 On September 13, 2011, the Fed. Cir. panel in AMP v. Myriad denied AMP's (read ACLU's) petition for rehearing by the panel. (A copy of the petition can be found at the end of this post.) In challenging the holding that the  claimed isolated DNA molecules are not products of nature, AMP argued that "the language of the patents defines the function, not the structure of the patented genes and gene fragments…the composition claims in the patents are not defined by chemical structure. They are defined by function." The success of this argument would require the panel to read the term, "[a]n isolated DNA" out of claim 1 of the '282 patent:
An isolated DNA coding for a BRCA1 polypeptide, said polypeptide having the amino acid sequence set forth in SEQ ID NO:2.
Clearly, that was not going to happen, although it appears to be an attempt to riff on dissenter Bryson's conclusion: "What is claimed in the BRCA genes is the genetic coding material, and that material is the same, structurally and functionally, in both the native gene and the isolated form of the gene." Slip op. at 13.  However, even "markedly different"  Judge Moore, who presented the best "chemical" analysis of the claims, had no reason to change her views.
AMP's second argument was hard to follow, but seemed to be based on its opinion that the claimed BRCA1 and 2 gene fragments are inherently present in the body  e.g., in the blood of cancer patients, and so are patent-ineligible natural products. This may be an attempt to reopen the purification vs. isolation argument that held appeal for some of the panel, but arguing that the claimed fragments must arise in vivo "at least some of the time" is not going to carry the day as an inherent anticipation argument, much less as a product of nature argument.
The panel left pending Myriad's petition for rehearing that challenges AMP et al.'s standing to bring suit, although AMP argued that the American College of Medical Genetics has organizational standing and an additional plaintiff, Ellen Matloff, had conversations about possible infringement with Myriad. AMP may not be in the bottom of the 9th inning yet, but they are in the bottom of the 8th. The panel did such a thorough analysis of the issues that I just don't see a petition for rehearing en banc getting on base.