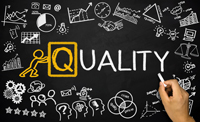 Many patent attorneys received a notice recently, copied below, alerting them to efforts by the US Patent Office to improve patent quality.
The notice references a "Master Review Form". A preliminary version can be found at:
http://www.uspto.gov/sites/default/files/documents/MRF.pdf
Not only does this Form serve as a "checklist" for how examiners are supposed to process your application, it provides an indication of how prosecution will be graded by the Office.
Once the Form is finalized, you can use it to fortify your responses, so that when you find something missing in an Office Action, you can explicitly point out how the Examiner has failed to properly address certain aspects of the rejection.
If you are able to promote the missing content as a significant deficiency, noted as such in bold type in the response, and using the same words that are on the Form, you might just get a second chance at allowance.
(more…)