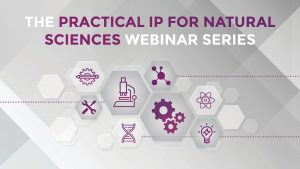 Please join us in a new webinar series directed to the practical strategies in a new era of patent law to protect IP in chemistry, pharmaceuticals, biotechnology and genetic medicine.
The collision of new technologies and patent statutes of a by-gone era have led the Courts of the United States into new and uncharted territories. The Courts are wrestling to apply 1952 statutes to advances in computers, software, biotechnology and genetic medicine, and the fall-out has spread across all technologies. "New" judge-made law has been spawned from "old" established principles. Chemical patent law is no longer cut and dried. Biology has morphed into biotechnology with exciting medical/genetic advances that are denied patent protection by recent judge-made law. Even claims to polymer technology are not immune from the judges' arm wrestling opinions.
In this complimentary webinar series, the Schwegman chem and bio legal team will provide practical tips to companies and universities looking for an understanding of this legal maze. We will explore and discuss current views of the law as applied to real situations, point out claim language that was acceptable in the past but now is not, and will suggest possible workarounds. We will apply the "new rules" to prosecution, opinion practice and defending and asserting patents in IPR. Each of the webinars are 30 minutes in length followed by a collaborative Q&A session with the presenter(s).
For the first webinar in this series, Drs. Robin Chadwick and Ricardo Moran will present on "Post Myriad: 5 Patent Prosecution Tips." In this presentation, Robin and Ricardo will analyze how the Courts and the Patent Office have come down hard on claims directed to natural products and diagnostic methods and provide suggestions on how to optimize your chances of obtaining commercially valuable and defensible patent claims.
This live event will begin on August 24th at 1:00pm CT.